Starts May 6th - Welcome to Adventure Isle! Nora has traded in her blue jeans for treasure hunting gear and she's ready to take you through the map. You've joined your clan, accumulated your 80 clan tokens and now it's time to use them to rock n roll! There are mysterious treasures to be found !In this post your Dirt Farmer team has a guide to completing the treasure map with your clan for you. Enjoy our post and be sure to share with friends if you like it.
By now your clan is in place Once Adventure Isle is live, no one can be kicked from or leave the clan. When you begin Adventure Isle, you will have a task board similar to those in the farm runs and new farm main features.
You will not be able to play Adventure Isle until each member of your clan has personally acquired 80 clan tokens. If you do not have enough to move on you will see this.
When you do have enough click "use"
Then your clan will be invited to play Adventure Isle
Once you begin to play you will see the treasure map.
You can communicate and strategize with your team mates in clan chat.
You can see your own stats below those of your clan.
See your clan's progress on the map by clicking beneath the map. This will also show you the rewards for each quest on the map.
There will be a variety of tasks to choose from. Hover over the various tasks for details before making your selection.
Points per task will as usual be shown in the upper left corner of the task.
You can select up to three tasks at a time but you cannot choose two of the same type at the same time.
There is no time limit on tasks, other than the end of the feature. That said, your clan is working together to reach the goal and unlock the treasures. To be a good team mate, complete the tasks as quickly as you can and select new ones to help press on to the goal.



Your chosen tasks will be shown as below with the number you have previously completed shown in upper left of board , your clan's current map stage at right and the exit to event tasks button at bottom left.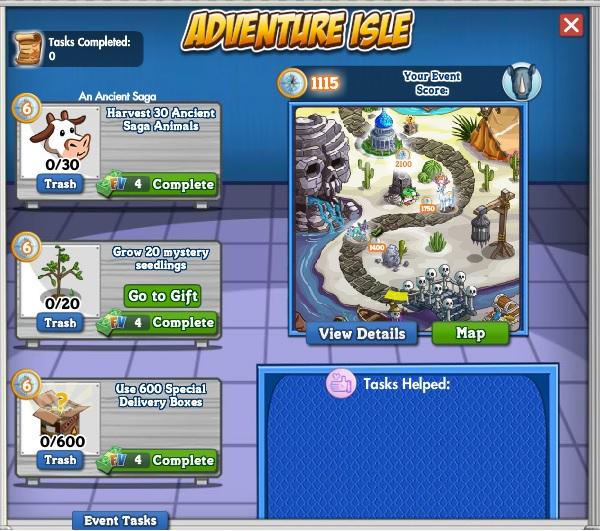 If you find that you have bitten off more than you can chew and a task is too much for you , you can click on get help. This will cut the task requirements and points in half. It will also notify your clan mates that you need assistance.
If you wish to be the helper, check the help task board for tasks that are overwhelming your clan mates and pick up what you choose. Helped tasks will show on the orderboard.